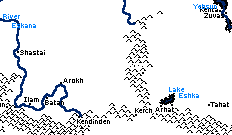 Kendinden
is a
Chaiuran
monastic city located near the headwaters of the
River Eskana
.
Characteristics
Edit
Kendinden is described as having quiet colonnaded gardens and serene waterfalls, commingling with footpaths and groves. Foundations abound of large monuments planned in earlier times, but most of them are stripped, or provide the walls for much more modest monastic housings.
Originally a project of the last Nevathi khagans, Kendinden fell in the late 580s; all that remained were the foundations of the great buildings as vast chunks of marble were carted away for work on the Telha pearl – Arhat. The city's construction was never finished, and its ruins came to be the home for a monastic city of the Chaiuran Machaianist monks.
Ad blocker interference detected!
Wikia is a free-to-use site that makes money from advertising. We have a modified experience for viewers using ad blockers

Wikia is not accessible if you've made further modifications. Remove the custom ad blocker rule(s) and the page will load as expected.